Age: 21
I'm Yoko Tachibana. I'm part of the Xenoverse. I'm the cousin of Gojimaru. Nice to meet you all, btw. I accept all invites.

Name: Yoko Tachibana
Gender: Female
Age: 20
RP age: 14
Hair: Black
Eyes: Blue
Height: 154 cm (5'1)
Weight: I dunno
Status: Single

Likes:
Dragon Ball
Anime
YuGiOh
Making friends
Video Games
My cousins
Root Beer Floats
Recent Activity
Yoko commented on a video

(3 months ago)




Yoko favorited a video

(3 months ago)




A tribute to Kasumi Todoh

My second AMV that I created. A tribute to my other favorite SNK girl, Kasumi Todoh. She's the reason I took Aikido and I use her a lot in King of F...

Yoko became friends with vidliiuser1

(5 months ago)

Yoko became friends with Chiyome

(5 months ago)

Yoko became friends with Akiko

(9 months ago)
Rin
(1 year ago)
I'm fine. I like your Pan bg!
Gojimaru
(1 year ago)
Hey. Is that Pan or something on your background?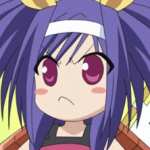 JaredFuckenMarth
(2 years ago)
MAN FUCK ALL U NIGGERS! UR ALL FUCKEN FAGGOTS 4 HATING TGTTM! TGTTM IS A FUCKEN HILARIOUS SHOW! EITHER GET A FUCKEN SENSE OF HUMOR OR FUCKEN DIE! FUCK U CUNT RAGS! TGTTM 4 LIFE!
Please
log in
to post a comment!